#67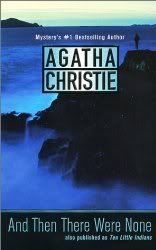 Title
:
And Then There Were None
Author
: Agatha Christie
Copyright
: 275
Pages
: 2001 (1965)
Format
: Paperback
Rating
: 4/5 stars
Finished
: 8-27-08
"Ten little Indian boys went out to dine..."
And so starts the nursery rhyme that was the basis for Agatha Christie's
And Then There Were None
(also published as
Ten Little Indians
). The story opens with 8 people from all walks of life traveling to Indian Island, where they have been invited for a summer holiday by the mysterious U.N. Owen. Upon reaching the island, they discover that their mystery host is no where to be found; the only other people on the island are the butler and his wife. The guests are soon confronted with the reason for their invitation: their host knows about the secrets of their pasts, and has decided that justice must be served.
Truthfully, of the little Christie that I have read so far, this has been my least favorite. Don't misunderstand, however, I still greatly enjoyed the book! Christie's knack for misdirection is amazing, leading you to believe with utmost certainty who the killer is, at least until the next chapter when she sheds new light on a new suspect, and then you know for sure that they are the killer, again until the next chapter. What I didn't like about this book is the murders seemed too contrived and forced to match up with the nursery rhyme. Of course, these murders needed to fit the pattern of the rhyme, otherwise, what would be the point? It just came across as too convenient for me, yet I did enjoy flipping back and forth to the rhyme at the beginning of the book to try to figure out how the next murder would take place!