#65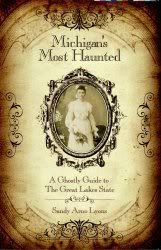 Title
:
Michigan's Most Haunted, A Ghostly Guide to the Great Lakes State
Author
: Sandy Arno Lyons
Copyright
: 2007
Pages
: 100
Format
: Paperback
Rating
: 3/5 stars
Finished
: 8-23-08
I love me a good, "real" ghost story, so I'm always picking up these types of books. My friend S brought this one back for me and my roomie from her trip to upper Michigan. I never know whether to take these stories with a grain of salt, but I do think that sometimes there is something of truth in the tales.
Michigan's Most Haunted
has some interesting stories in it, but it could have benefited from stories that had some more concrete evidence to their "hauntings" and maybe some pictures of the actual "ghosts." Lyons did provide pictures of each of the locations talked about in her book, along with information on contacting the locale in case you want to visit it yourself.