#63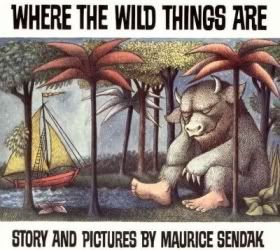 Title
:
Where the Wild Things Are
Author
: Maurice Sendak
Copyright
: 1963
Pages
: 48
Format
: Hardcover
Rating
: 4/5 stars
Finished
: 8-17-08
I had a pleasant surprise last night while going through a stack of old magazines I discovered in the back of my closet. I discovered that I had a copy of
Where the Wild Things Are
tucked away in that stack of magazines!
Not much more can be said for this children's classic tale that hasn't already been said before. I'm almost sure that everyone has read this at one point or another in their lives, and if you haven't, it's worth it. I know that it was the illustrations that I remember most from my childhood, and as I read it again last night, they all came back to me in a rush of nostalgia!
No child's library should be without this book.