#71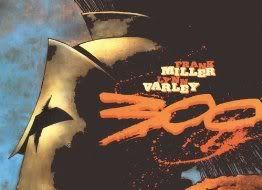 Title
:
300
Author
: Frank Miller & Lynn Varley
Copyright
: 1999
Pages
: 88
Format
: Hardcover from library
Rating
: 4.5/5 stars
Finished
: 9-11-08
Frank Miller's retelling of the Battle of Thermopylae,
300
was originally published as a limited series and later collected as a graphic novel. I'm fairly sure without further research of my own that Miller was rather liberal in his retelling. The story is quickly paced, leading from the events that sparked the battle to the defeat of Leonidas by Xerxes which prompts the Spartans to take arms against Xerxes and the Persian Empire.
300
is illustrated in Frank Miller's typical, graphically strong style. Lynn Varley's colors help set off Miller's artwork appropriately, and overall the artwork compliments the story well.
This is a very quick read, and if your only experience with
300
is the film version, you may be disappointed in this original print version, but it is still worth reading if you are interested in the graphic novel.