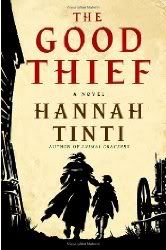 Title
:
The Good Thief
Author
: Hannah Tinti
Copyright
: 2008
Pages
: 336 pages (only read about 150ish)
Format
: Paperback from publisher for review
Rating
: DNF
Finished
: Quit 9-7-08
I received Hannah Tinti's
The Good Thief
as an ARC sometime back, and I admit that it took me awhile to get around to reading it. However, I have been working on reading this book for the better part of a month now, and as of 150 or so pages, am giving up on it for the time being.
It is the story of Ren, an orphan who only has one hand. He has no memory of how he lost his hand, nor do the priests have any idea how he came to be at the orphanage, where he has lived his whole life. Ren is beginning to despair that he will never be adopted, and at a certain age the boys are sent off to the army if they aren't adopted. One day, a man named Benjamin comes to the orphange, proclaiming to be Ren's older brother and wants to take him home. Soon after leaving the orphanage, Ren begins to realize that Benjamin is not a relation at all, and it seems that Benjamin was simply looking for a young boy to help he and his friend Tom with their various money making schemes.
At 150 pages into the book, the plot hasn't changed much than that. Benjamin and Tom have gone from selling opium-laced elixirs to robbing the jewelry from fresh graves to removing bodies from graves to sell. The book isn't poorly written, it just isn't moving at all. I don't care what happens to Ren, Benjamin or Tom, I don't care about what the next money making scheme is going to be, and the other characters who populate the story are just barely believable.
I think I would like to finish this at a later date, but right now, I'm tired of plodding through this book. Like I say, this isn't a poorly written book, it's just not moving fast enough.