#74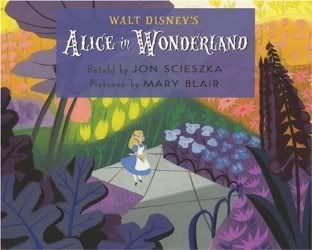 Title
:
Walt Disney's Alice in Wonderland
Author
: retold by Jon Scieszka and illustrated by Mary Blair
Copyright
: 2008
Pages
: 64
Format
: Hardcover
Rating
: 5/5 stars
Finished
: 9-25-08
This was an enjoyable find for someone who loves animation and Disney history as much as I do. It is a retelling by Jon Scieszka of Lewis Carroll's
Alice's Adventures in Wonderland
, following the animated film version of the story. What delighted me most about this book is the accompanying illustrations by Mary Blair. Blair's preliminary storyboard sketches are used to illustrate Scieszka's retelling of the story. I love Disney animation, and to be able to see some of these earlier sketches is a real treat for me.
Blair was one of the most important artists of her time with Disney, influencing the look of such films as
Alice in Wonderland
,
Cinderella
and
Peter Pan
, in addition to numerous other projects including some of the theme park attractions at Disneyland (most notably the
It's a Small World
ride).
The retelling of the story is very simple, and based entirely on the Disney animated film version of the story. It's a simplistic retelling, geared towards kids, but still a fun little read. Accompanied by Blair's illustration, this is a real gem of a little book!