#80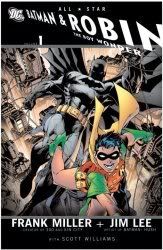 Title
:
All Star Batman & Robin, the Boy Wonder, Vol 1
Series
:
All Star Batman & Robin, the Boy Wonder
Authors
: Frank Miller, illustrated by Jim Lee & Scott Williams
Copyright
: 2008
Pages
: 240
Twitter
: @jimlee00
Format
: Hardcover
Rating
: 4.5/5 stars
Finished
: 10-19-08
Collecting the first 9 issues of the series, this new, re-imagined, re-telling of the Batman mythos and his origin,
All Star Batman & Robin, the Boy Wonder
, is really a muddled mess of a book. The story trundles along at a painfully slow pace (when published as a series of individual issues, it took Batman and Robin 4 issues to GET OUT OF THE BATMOBILE! I'm not kidding.) and while Frank Miller may have been THE Batman writer in his day, he has to resort to a constant string of violence and profanity to make his story seem shocking and edgy in the very slightest.
So why, you ask, did I give it such a high rating? That all comes down to Jim Lee's artwork. It is beautiful. Lee is able to make even the most mundane and insipid story seem appealing. His art is crisp, clean and dynamic and really takes the story to an acceptable level.
Only diehard fans of either Miller, Lee or Batman will find this book even remotely interesting. If you are coming into this as a fan of none of these, then chances are you won't enjoy this book at all. And to be frank, if Jim Lee were to ever quit as artist to this series, I wouldn't have any problem never reading it again.