#77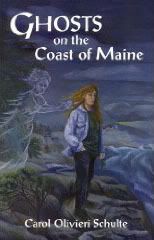 Title
:
Ghosts on the Coast of Maine
Author
: Carol Olivieri Schulte
Copyright
: 1989
Pages
: 160
Format
: Paperback
Rating
: 3/5 stars
Finished
: 10-13-08
A collection of "true" ghost stories, Carol Schulte traveled up and down the coast of Maine, collecting local stories of hauntings and the backgrounds behind those hauntings. I'm such a sucker for these books. I never know whether or not to believe even half of what is said in them, but they are always fun to read. Not the most challenging read you'll ever come across, but still amusing all the same.