#84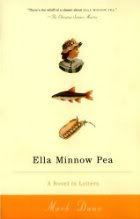 Title
:
Ella Minnow Pea
Author
: Mark Dunn
Copyright
: 2001
Pages
: 208
Format
: Hardcover
Rating
: 4.5/5 stars
Finished
: 11-11-08
This was just a plain fun little book to read. What would happen if letters of the alphabet were systematically forbidden to be used? What would you do? This book answers that question!
Ella Minnow Pea lives on the fictional island of Nollop, an independent country off the coast of South Carolina. Nollop is so named after Nevin Nollop, creator of the pangram "The quick brown fox jumps over the lazy dog." When a letter falls from the monument to Nollop, the ruling council determines that this is Nollopian divine intervention and that the fallen letter must be stricken from use, both verbally and literally. As more and more letters fall, all Nollopians must learn to cope with the increasingly difficult task of making sure that they neither speak nor write words that include these letters.
The book is told through correspondence between the people who live on Nollop, and Mark Dunn is genuinely quite clever in how he presents these letters as the Nollopians lose the rights to use one letter after another. I can honestly say that I had a fun time with trying to work out not only the new ways that the Nollopians found to speak, but also the solution to their problem. This wasn't a particularly challenging book to read, but it was a lot of fun and well worth the time. Give it a read sometime if you're looking for something amusing and clever and completely escapist.