#82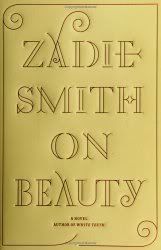 Title
:
On Beauty
Author
: Zadie Smith
Copyright
: 2005
Pages
: 464
Format
: Audiobook
Rating
: 3.5/5 stars
Finished
: 11-7-08
A retelling of
Howards End
, Smith deftly recasts Forster's characters in today's age and sensibilities. Some bits I found a little off (Carlene's bequest to Kiki, for instance, seemed a little out of place) but overall, as a self-proclaimed "homage" to
Howards End
, Smith created an admirable work.
If you are familiar with Forster's
Howards End
, I think you'll get more from
On Beauty
. While it doesn't follow the original exactly, Smith does take enough from
Howards End
that much of her story will make better sense if you've read the other first. It is interesting to see how Smith reworks some of the social structure. Instead of being a book about social classes and the differences therein, Smith reworked the story to become more a study about liberal versus conservative sensibilities. She still touches on the class differences in several ways, between the students that can't afford to attend college, and the Haitian immigrants who are trying to get fair treatment in the US.
To be honest however, by the end of the book I really didn't care what happened to the characters one way or the other. I'm not really sure what happened there, but by the last half dozen or so chapters, I lost all interest in what was happening. The book is still incredibly well written, I think I just grew tired of the constant string of lies and deceit that seemed to stream through the Belsey household. There also seemed to be a lot of build up to the eventual confrontation between the two families, and when it did finally happen, it happened quickly and without much fanfare. It seemed like the book was well-paced right up to the end, and then Smith rushed the story to it's conclusion.
I'm not sorry that I read the book; I just think I would have enjoyed a little better pacing at the end of the book.