#100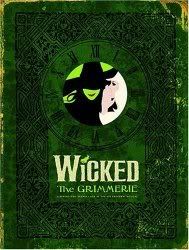 Title
:
Wicked: The Grimmerie, a Behind-the-Scenes Look at the Hit Broadway Musical
Author
: David Cote
Copyright
: 2005
Pages
: 192
Format
: Hardcover
Rating
: 5/5 stars
Finished
: 12-31-08
If you are a fan of the Broadway hit musical,
Wicked
, than this book is for you! The title speaks for itself, this is nothing more than a look behind the creation of
Wicked
, with photos and design sketches, info on the cast, spells, inside stories and more throughout. If you love the musical like I do, you have to have this book.