#97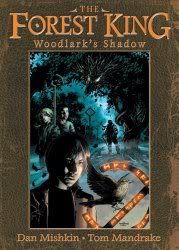 Title
:
The Forest King: Woodlark's Shadow
Authors
: Dan Mishkin & Tom Mandrake
Copyright
: 2006
Pages
: 103
Format
: Hardcover
Rating
: 4/5 stars
Finished
: 12-28-08
I really enjoyed this book. It was a quick read, but Dan Mishkin packed quite a story into these 101 pages. A coming of age story of sorts,
The Forest King
is the story of Justin Woodlark, who has moved with his family to his father's childhood home in New England after his father, a police officer, is injured and unable to to work in the police force anymore.
Justin makes several friends within months of arriving, and one of their favorites games is to play Old Man of the Forest in the woods behind town. During one of these games, Justin discovers that there is in fact a monster living in the woods, who Justin believes to the
actual
Old Man of the Forest. He has to decide to either run away from his fear and let the monster continue to stalk the woods, or stand up to his fear and confront the monster.
The accompanying illustrations by Tom Mandrake really accent the story well and do not take away from it at all. If anything, the illustrations make the story even better.