#98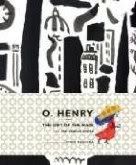 Title
:
The Gift of the Magi/The Purple Dress
Author
: O. Henry
Copyright
: 2006
Pages
: 48
Format
: Hardcover
Rating
: 3/5 stars
Finished
: 12-29-08
O. Henry's classic tale of the sometime cost of giving gifts,
The Gift of the Magi
is the story of a couple almost too poor to afford their small apartment, and who each sell their only prized possession in order to afford a Christmas gift for the other, only to discover that their gift was intended to accentuate the others prized possession, which neither own anymore. It's a touching tale that illustrates the importance more of your loved ones in your life than your possessions.
The Purple Dress
is an even shorter story, and tells the tale of a young girl who dreams of her new purple dress that she is having made to wear to her upcoming Thanksgiving dinner. When the time comes to put the final $4 down on her dress, she discovers that a friend is in need of exactly $4 so that she is not evicted from her apartment, so she sacrifices her $4 and her new dress for her friend. However, in the end, she is rewarded for her kindness to her friend.
Both stories are told very quickly and to the point and O. Henry doesn't mince words. As my first experience with O. Henry, it doesn't make me want to rush right out and pick up another volume, but I won't go out of my way to avoid him either. I wasn't that impressed with the accompanying illustrations by Chris Raschka. All I see is splotchy watercolor marks and chunks of fabric that are supposed to be people and the city; it's all representational art, but I think it just looks messy in most cases.