#99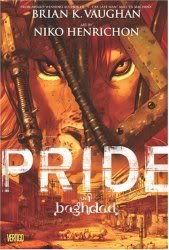 Title
:
Pride of Baghdad
Authors
: Brian K. Vaughan, illustrated by Niko Henrichon
Copyright
: 2008
Pages
: 136
Format
: Paperback
Rating
: 5/5 stars
Finished
: 12-29-08
Very rarely a book will take me by surprise like this did. I was angry. I was sad. And I think everyone should read this book.
I think part of the shock from this book is that I didn't know what was coming. I'd heard about
Pride of Baghdad
but didn't know anything about the story, so had gone into it blind, so if you want to read this and be just as surprised by the ending as I was, just skip the rest of this and go read the book.
In 2003, American soldiers invaded Baghdad and in that invasion, the zoo in Baghdad was destroyed. Of the 650-700 animals housed in the zoo, only 35 survived the aftermath of the attack. Some of the animals were looted from the zoo and there was a group of lions that escaped and were roaming the streets of Baghdad. Four of these lions were shot and killed by American soldiers when they wouldn't return to their cages.
Pride of Baghdad
is Brian Vaughan's fictionalized account of this story through the eyes of these lions.
The story follows Zill, Zafa, Noor and Ali, a pride of lions who escape from the zoo after it is destroyed by American forces and have a brief taste of freedom. They roam the city of Baghdad, encountering several other animals (a sea turtle, horses, another lion kept in private captivity who is close to death, and a blood-thirsty bear) and how they persevere as a small pride to survive their situation. Just as they come to terms with their freedom and come to understand it for what it is, they are all shot dead by American soldiers.
To be honest, I couldn't believe what I read at first. I had to jump back and forth between pages to make sure I was understanding what was happening to the lions. While Vaughan obviously took liberties with the lions by anthropomorphizing them to make us feel more for them, when I discovered that this was based on a true story, I was even more outraged. Who knows exactly what happened to the lions, but the injustice of it seemed to quake through this book by the last page.
Niko Henrichon's artwork is dazzling throughout the book. The emotion that he is able to render in the animals, their terror at the attacks from the American soldiers, their amazement at their freedom, all spills from each page.
Don't let the fact that this is a graphic novel deter you from reading it. An incredibly powerful tale that will shock you by its strength,
Pride of Baghdad
is one story that will stay with you far after you've read it.