#3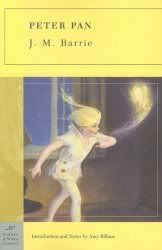 Title
:
Peter Pan
Author
: J.M. Barrie
Copyright
: 1911 (2005)
Pages
: 159
ISBN
: 9781593082130
Publisher
: Barnes & Noble Classics
Format
: Paperback
Rating
: 4/5 stars
Finished
: 1-11-09
Challenge
: 75 Books 09
This was my first reading of J. M. Barrie's classic tale of the boy who would never grow up,
Peter Pan
. I'm pretty sure everyone is familiar with the story of Peter Pan, so I'll just highlight my thoughts about the book. Having always been steeped in the Disney version of the story, I was a little surprised by the darker and more violent elements of the original story, but found that they added an element to the story that really illustrates how much of a child Peter Pan truly is. I found myself becoming increasingly irritated with his actions, and those are truly of a child who has lived his whole life by his own rules and without the guidance of parental supervision. Peter is selfish, arrogant, unconcerned for the safety of others and wholly immature, yet innocent in every way. I also found Tinker Bell so much more amusing this time around. Overall, it was a fun read and didn't leave me disappointed at all.
I found the book interesting enough that I'd like to read
Peter Pan in Kensington Park
, Barrie's original story of Peter's childhood from his book,
The Little White Bird
.