#4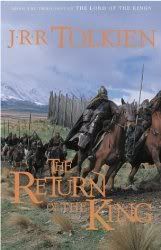 Title
:
The Return of the King
Series
:
The Lord of the Rings
Author
: J.R.R. Tolkien
Copyright
: 1955 (2001)
Pages
: 440
ISBN
: 9780618260584
Publisher
:
Houghton Mifflin
Format
: Audiobook
Rating
: 5/5 stars
Finished
: 1-14-09
Challenge
: 75 Books 09
I really can't add anything to any discussion about
The Lord of the Rings
series that hasn't already probably been said twice before. Grand and epic in it's scope and telling,
The Return of the King
is the final book in the series. I'm always impressed by the story, but I can't help but always feel that the ending seemed a little too easy for everyone involved. Of course, the emotion that comes through in the story is just as strong as ever, but this latest reading left me wanting more from the ending; something a little more tangible in the evil forces that threaten Middle-Earth. Maybe I've read it one too many times now, but the enigmatic nature of Sauron just seemed a little, well, too enigmatic for me this time. Still, you can't deny that this is one fine piece of fantasy literature.