I'm not going to count this against my reading goal for the year as it is so small and I read it in the store.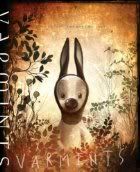 Title
:
Varmints
Authors
: Helen Ward, illustrated by Marc Craste
Copyright
: 2008
Pages
: 32
Format
: Hardcover
Rating
: 4/5 stars
Finished
: 1-19-09
I happened to stumble on this on a small display on the backside of the help desk at one of my local bookstores and the cover caught my eye, so I thought I'd pick it up and thumb through it.
Helen Ward's
Varmints
is a cautionary tale about industrialization and the effects that it has on the world around us, and that that world needs to be protected and nurtured in order to survive. Basically it says, "Be careful of how many buildings you build, or you may destroy nature." Such stories seem to be a dime a dozen these days. What this book has that helps it stand above the others are the illustrations by Marc Craste. Craste's art is so ethereal and solid; light and dark; all at the same time that it is mesmerizing. I spent more time simply staring at the pages than I did reading the actual book. There's nothing special about this book, but I found I enjoyed it all the same.