#14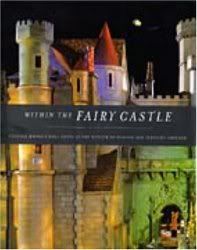 Title
:
Within the Fairy Castle: Colleen Moore's Doll House at the Museum of Science and Industry, Chicago
Authors
: Terry Ann R. Neff, photographs by Barbara Karant
Copyright
: 1997
Pages
: 127
Format
: Hardcover
Rating
: 4/5 stars
Finished
: 2-23-09
Within the Fairy Castle
is a pictorial book about the Fairy Castle exhibit at the Museum of Science and Industry in Chicago. As described on the postcard that I also picked up at the Museum when I visited:
The renowned Fairy Castle is one of the most beloved, permanent displays at the Museum of Science and Industry. A gift to the museum from silent-film star Colleen Moore, the castle has appealed to people's imaginations since 1949. The castle was constructed on a scale of one inch to one foot and measures 10 x 8 x 7 feet and features fourteen elaborately decorated rooms.
The book is a simple photographic keepsake, talking about the layout of the castle and including over 100 up-close photographs of the details of each room as well as most of the small artifacts from the castle. It also includes a history of the construction of the Castle, as well as a short biography of Colleen Moore.
It's a nicely designed book, the photographs are clear and the descriptions are well written. A nice keepsake or a great idea for anyone that enjoys doll houses.