#17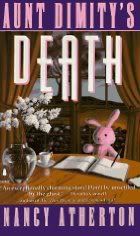 Title
:
Aunt Dimity's Death
Series
: Aunt Dimity
Author
: Nancy Atherton
Copyright
: 1992
Pages
: 244
Format
: Paperback
Rating
: 4/5 stars
Finished
: 3-1-09
Lori Shepherd has been living a very lonely life since her mother passed away. Her apartment is meek and shabby, she works with a temp agency, bouncing from one job to the next, wondering where she's going to get the money to pay her ever-growing mountain of bills. all that changes when she receives a letter from the mysterious law firm of Willis & Willis, telling her that she is about to inherit a large estate from Dimity Westwood, but only if she can solve a puzzle hidden in the letters at Dimity's cottage in England. The only problem? Dimity was nothing more than a character in the
Aunt Dimity
stories that Lori's mother told her as a child. Or was she?
Being the first in a series, and also being labeled as a Crime Mystery, I can only assume that the rest of the series follows suit as a true cozy mystery series, while this volume is nothing more than character introduction and set up. There really is nothing truly mysterious in this book, which confused me at first, but as the story progresses and each of the characters are fleshed out, I found myself more and more endeared to them. With something of a Cinderella story and with part of a ghost story added in for good measure, it became more of a book about love and redemptive power of forgiveness. It was a quick little read (it took me an afternoon), and I enjoyed it enought o see how the rest of the series progresses.