#18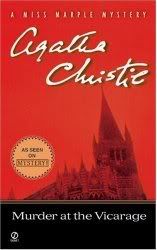 Title
:
Murder at the Vicarage
Series
: Miss Marple Mysteries
Author
: Agatha Christie
Copyright
: 1930 (2000)
Pages
: 256
Format
: Paperback
Rating
: 4/5 stars
Finished
: 3-6-09
Murder at the Vicarage
is Agatha Christie's first book to star one of her greatest literary creations, the indomitable Miss Jane Marple. Miss Marple may appear to be your typical "little old lady," but her powers of observation, honed from living almost her whole life in the small village of St. Mary Mead and giving her an acute insight into the human condition, prove to the match of everyone in the village, police included, when it comes to solving the murder of Colonel Protheroe.
When you get right down to it, there isn't much to the story. It is a fairly typical Christie mystery, making you think you know the conclusion until she pulls the rug right out from underneath you when she reveals the mastermind behind the murder. The murder in question is that of Colonel Protheroe, a not-much-loved member of the village, who is found murdered in the vicars writing room. There are plenty of people with motives, and plenty bits of misdirection, but it is up to Miss Marple to put the pieces together and discover the identity of the true culprit before it's too late.
A fun little read with an endearing character in Miss Marple, the whole story is wrapped up with a nice and tidy ending. Not a bad choice if you're looking for an easy mystery read.