#19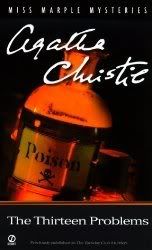 Title
:
The Thirteen Problems
Series
: Miss Marple Mysteries
Author
: Agatha Christie
Copyright
: 1932 (2000)
Pages
: 224
Format
: Paperback
Rating
: 3/5 stars
Finished
: 3-8-09
The Thirteen Problems
is a collection of loosing connected short stories. The first six stories take place as part of The Tuesday Night Club, where a select group of friends come together each week for one to relate some mysterious, "unsolved" tale that only they know the answer to, to see if anyone else can come up with the answer. Each and every time, Miss Marple is able to deduce the answer. The second set of stories take place at a dinner party where Miss Marple is invited at the request of Sir Henry Clithering, who was also part of The Tuesday Night Club and is a retired head of Scotland Yard. Again, Miss Marple reasons her way to the answer of each mystery. The final story takes place some time after the dinner party, when Miss Marple discovers the Sir Clithering is staying in St. Mary Mead, and she enlists his help in solving a mysterious death in the village.
Really, these stories are rather simplistic, and it seemed a rather big jump in some cases for Miss Marple to reach the conclusions that she did, but I guess that's the point of the stories; that Miss Marple has such a keen insight into the human condition, and that everything that she observes always reminds her of something else, that not much escapes her powers of observation. From what I understand, most of these stories had originally been published prior to
Murder at the Vicarage
, so that may explain why they are so simplistic; they were written for the express purpose of simply introducing Miss Marple. Not a bad book, but I think that Miss Marple really has a much better chance to shine through in a novel rather than these short stories.