#24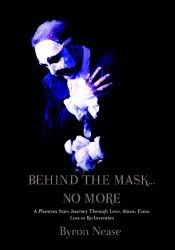 Title
:
Behind the Mask... No More
Author
: Byron Nease
Copyright
: 2008
Pages
: 165
Format
: Paperback from publisher
Rating
: 3/5 stars
Finished
: 4-5-09
Behind the Mask... No More
is Byron Nease's journey from an abused childhood to accepting himself as a gay, HIV+ adult. Nease has worked on Broadway for many years, in such productions as the revival of
Auntie Mame
opposite Angela Lansbury to playing Raoul in the
Phantom of the Opera
at the Pantages Theatre in Toronto. I found Nease's storytelling to be a little jumbled, especially the chapters when he was talking about his family (there were so many of them) but overall, he is able to tell what he wants to tell. Truthfully, my favorite chapter was about his grandmother, when she lived with him during her final years. It was a touching chapter, and you can tell that he really loved his grandmother dearly. I also wish that there was a better time frame in the book. It seemed to jump around some, and the inclusion of years so that we knew when what was happening would have been beneficial. I was impressed with the chapters when he finally comes around to his adult years of living with HIV for so long, and surviving with it. I think it is important for people to know that you can survive the disease, and that more people like Nease need to step forward and remind people of that.
Overall, it is a touching book, written from the heart, and one that, in its own way, is inspirational.