#26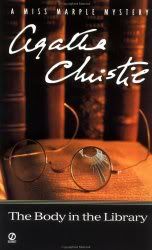 Title
:
The Body in the Library
Series
: Miss Marple Mysteries
Author
: Agatha Christie
Copyright
: 1942 (2000)
Pages
: 220
Format
: Paperback
Rating
: 4/5 stars
Finished
: 4-4-09
"Oh ma'am, oh ma'am, there's a body in the library!"
And so starts Col. and Mrs. Bantry's day. It seems that the body of a young, platinum blonde girl has shown up in the library, and no one knows how she got there. By the end of the day, there are plenty of suspects, but still no answers. Enter Jane Marple. In typical Miss Marple fashion, she cuts to the quick of the problem and discovers the secrets that everyone is hiding and helps find the killer.
I have to admit, having finished
The Thirteen Problems
not that long ago, I can say that Christie's strength lies when she is writing a full novel. Her short stories seemed so strained after reading this.
The Body in the Library
was a fairly easy read, and was quite enjoyable. I also like the fact that Christie does carry over several of the local characters of St. Mary Meade from one story to the next.
Next on the list,
The Moving Finger
.