#29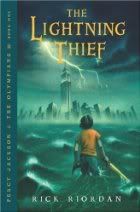 Title
:
The Lightning Thief
Series
:
Percy Jackson and the Olympians, Book 1
Author
: Rick Riordan
Copyright
: 2006
Pages
: 392
Twitter
: @camphalfblood
Format
: Audiobook
Rating
: 4/5 stars
Finished
: 4-21-09
OK, this was just a plain fun book.
The Lightning Thief
is the first installment in Rick Riordan's
Percy Jackson and the Olympians
series, which answers the question of what would the Greek gods be doing if they still existed today. Riordan sticks to the "rules and regulations" of the ancient myths, making sure that his story fits in the criteria of how the gods can interact with the real world, as opposed to changing established myths and lore to fit his needs, and I appreciated the story that much more for the effort that he put forth in that regard.
The story is fairly formulaic in the way most YA fantasy is these days: boy is an outcast and doesn't fit in with the normal crowd and doesn't know why; boy has a very dysfunctional family at home; boy discovers that he is actually something more than normal (in this, a demigod); boy goes off to specialized school to fit his needs; boy makes two friends (1 boy and 1 girl); boy immediately makes rival at school; boy goes on quest; boy confronts evil being and defeats him when he obviously shouldn't have been able and in the end proves his worth above and beyond what anyone expects. Because the story is so formulaic, I found certain elements of the plot fairly predictable, but that didn't detract from my overall enjoyment of the book.
My biggest problem with the book is the pacing at the beginning. Fairly early on in the book, Percy suffers a significant personal loss that he seems to get over in the course of a day. And within the week, he has come to complete terms with the changes in his life and accepts everything about his new life as a demigod in complete stride. It seemed like Riordan needed his story to move along quicker, so made Percy assimilate some rather significant changes in his life a little too quickly for my taste. This just seemed a bit too rushed. The rest of the book moved along quickly, but didn't seem quite as rushed. The ending was satisfying, tying up just enough of the plot threads and leaving just enough questions to make me want to see what happens next.
Several friends have been pushing for me to read this series for awhile now, and I'm glad that I finally caved to the peer pressure! Setting aside all of it's predictability,
The Lightning Thief
is a great read and if you are a fan of Greek mythology, I think you'd really enjoy it. I'm anxious to get to the next in the series!