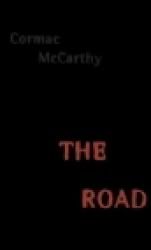 Title
:
The Road
Author
: Cormac McCarthy
Copyright
: 2006
Pages
: 241
ISBN
: 9780307265432
Publisher
:
Knopf
Author Website
:
cormacmccarthy.com
Twitter
:
@AAKnopf
Format
: Hardcover
Available
: September 26, 2006
Rating
: 5/5 stars
Awards
: Pulitzer Prize for Fiction (2007)
An amazing book, Cormac McCarthy's
The Road
is a story of survival; of surviving when there seems nothing worth surviving for. It is the story of a man and his child, crossing a country burned to ash, by the only means possible, the road, neither knowing if they will survive one day to the next, but surviving for each other. And that is when their survival becomes necessary, as they are living for each other. It is a story stark in its telling, stripped down, like the landscape and people that it describes, to the barest and necessary elements. I read it in three sittings, needing to take a couple of days between each reading to take in all that I had read.
The story follows a man and his son as they cross the country in search of the coast. They are traveling by the road, carrying all their worldly possessions in a shopping cart. The world has been burned away to ash, the landscape scavenged and looted years before, leaving no food or water. How they have survived this far is amazing. I can tell you that this is a desolate story from the very beginning. The feeling of despair that McCarthy expresses on the page is tangible, making those few moments of hope and happiness for the man and his son truly shine through.
I don't think this is a book for everyone. It's not an easy book to read, but it is a powerful story, ultimately of hope. It's hard to find hope in this story, but I think it's there. It's what made life livable for the man and his son, even when everything else around them made it seem impossible.
To purchase any of the books in this post, and help my local Indie bookstore, and help me buy more books, click the links above!