#27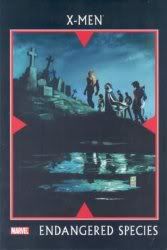 Title
:
X-Men: Endangered Species
Series
:
X-Men
Authors
: Mike Carey, et al.
Copyright
: 2008
Pages
: 192
Publisher
:
Marvel
Twitter
: @marvel
Format
: Hardcover
Rating
: 4/5 stars
Finished
: 4-5-09
After the events of
House of M
, there are less than 200 mutants alive in the world, and they are looking at the extinction of their species. The X-Man Beast decides to take it upon himself to find a cure for this problem, crossing boundaries he never thought he'd cross to find that cure.
It is an interesting premise; what lengths would you go to ensure the survival of your species? I think the X-Men comics have been wallowing for some time now, not knowing what direction to go in, but I think the stories and ideas that can come out of this graphic novel are a good starting point.