#31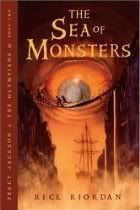 Title
:
The Sea of Monsters
Series
:
Percy Jackson and the Olympians, Book 2
Author
: Rick Riordan
Copyright
: 2007
Pages
: 304
Twitter
: @camphalfblood
Format
: Audiobook
Rating
: 3/5 stars
Finished
: 4-30-09
The second installment in Rick Riordan's
Percy Jackson and the Olympians
series,
The Sea of Monsters
finds Percy and his friends Annabeth and Grover on a quest to recover the Golden Fleece. Along the way, they pick up Percy's half-brother, the cyclops Tyson. I had thought the first book seemed rushed in some places, but with this one, t really seemed that Riordan was running through this one, like he had way too much story to tell in the book, so he glossed over certain bits to make it all fit. For instance, most of the time, I completely forgot about Clarice and Luke, two other key players in the story.
Don't get me wrong, the book was still enjoyable. I just feel that it suffered from the "second book syndrome," where the second book is there merely as a stepping stone from the first book, the introduction of the series, to the rest of the story. You might get the introduction of a couple more secondary characters, but since the gist of the entire plot has already been set forth in the first book, and there are still several books to go, the second book is just there to get the reader by from the the thrill of the first book to the solidity of the story in the third and future installments. While these are never bad books, they always seem like they are lacking in something.
Tyson quickly became my favorite part of
The Sea of Monsters
. Percy's monster half-brother, Tyson is a young cyclops who befriends Percy at school, before they know they are related. The Mist hides Tyson's true nature from Percy until they make it back to camp, and while Percy is ashamed at first to have a monster for a half-brother, the two quickly grow close and Tyson ends up playing an integral part in the story. He's big, goofy, innocent and grew on me almost instantaneously.
While not as enthralling as the first book, only due to the speed with which Riordan paces his story,
The Sea of Monsters
is still a fun book nonetheless. I'll be interested to see how the next volume plays out and what lies in store for Percy now that more of the prophecy has come to light.