#33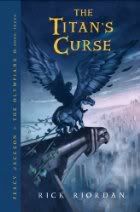 Title
:
The Titan's Curse
Series
:
Percy Jackson and the Olympians, Book 3
Author
: Rick Riordan
Copyright
: 2007
Pages
: 320
Twitter
: @camphalfblood
Format
: Audiobook
Rating
: 3/5 stars
Finished
: 5-14-09
The continuing adventures of Percy Jackson and his friends as they prepare for the coming war with Kronos and his Titans,
The Titan's Curse
finds the kids on a quest to save both Annabeth and the goddess, Artemis. The stakes are getting higher and the challenges more... challenging, as Kronos and Luke are finalizing their plans to attack Camp Half-Blood, and then Olympus. The story itself is becoming slight more serious as the series progresses. Riordan doesn't lose any of his wit and humor, but you can tell that the series is beginning to take a grave turn.
I know that I shouldn't think too much about these stories and just enjoy them for what they are, brain candy, but I can't help but feel that the stories are just a bit rushed and that the death of a character is not usually met with more than a cursory, passing comment. If fact, there was one death in the book that I actually didn't believe to be a death just due to the flip attitude that the surviving characters had to the death. It's just me, but the idea of characters dying in this series doesn't seem to carry much weight at all.
I'm still really enjoying the interactions the gods are having with the kids, and I really like that Riordan does stick to the ancient laws that have been set down in mythology, instead of bending the rules to fit the needs of his story. Flaws aside, I'm still enjoying the series.