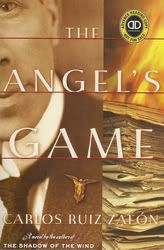 I've really had a hard time coming to terms with how disappointed I am in this book.
The Shadow of the Wind
remains one of my favorite books, and I was thrilled when I discovered that Zafón had written another book, and even more thrilled when I discovered that it is a prequel of sorts to
Wind
. Well, that's about as far as my enjoyment of this book has gone.
I've been reading
The Angel's Game
for the better part of three weeks now, and have not even reached 150 pages. I keep telling myself that it will get better, but as I look at my TBR pile that is growing exponentially, I realize that I just don't have the time or the patience to be able to spare on a poorly written book, regardless of how good the author has been in the past. The story has not moved forward at all, it seems very disjointed and unorganized, and I find that I really don't care how the story is going to end nor what is going to happen to the characters. Hopefully, I'll be able to pick it up again soon, but for the time being, I have far more books that are grabbing my attention right now.