#38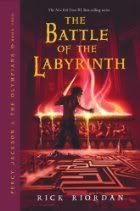 Title
:
The Battle of the Labyrinth
Series
:
Percy Jackson and the Olympians, Book 4
Author
: Rick Riordan
Copyright
: 2008
Pages
: 384
Twitter
: @camphalfblood
Format
: Audiobook
Rating
: 3.5/5 stars
Finished
: 6-10-09
The fourth installment in the
Percy Jackson and the Olympians
series finds Percy and friends in the labyrinth, in search of Daedalus, to try to keep Luke and the forces of Kronos at bay and keeping them from overtaking Camp Half-Blood. I've heard from several people that the first three books of the series are the best, and that the series begins to fall apart with the last two books. I don't agree with this. I think the fourth book has shown the most promise so far, taking on a more serious tone and turning from just a fun, romping read into something a little more serious. Percy begins to see the consequences of his and others choices and actions, and begins to act a little more realistically to the situation at hand. Riordan does still keep the usual levity in the story, though.
As usual, there seemed to be rushed moments in the book. For this book, it seemed to me that the final battle was too rushed, but I feel that way frequently about the final confrontations in YA books. It just always amazes that an entire book can be taken to get to the confrontation, yet the confrontation is over in one single chapter. I guess I just always enjoy the build up to the battle, that when it finally happens, it just happens all too fast.
With only one book to go, Riordan has done a nice job of keeping fewer and fewer plot lines dangling so that I think he'll be able to tie up the story nicely. I'm looking forward to the final installment, but at the same time, as this has been an enjoyable series to read, will be sad to see the story come to an end.