#40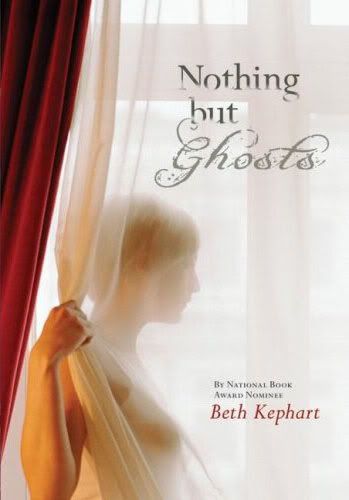 Title
:
Nothing but Ghosts
Author
: Beth Kephart
Copyright
: 2009
Pages
: 2787
Format
: Hardcover
Rating
: 5/5 stars
Finished
: 6-27-09
I always find it refreshing to discover that a writer who is so gifted in one field of writing can cross so seamlessly into another. I have read Beth Kephart before, who has written some of the most beautiful memoirs I have ever read (
Into the Tangle of Friendship
and
Ghosts in the Garden
, among others that I have not had the privilege of reading). She has a way of capturing words and painting a picture with them. If you've never read her memoirs before, go, read her words. You'll understand what I mean.
I recently had discovered that she had made the jump from memoir to young adult novels, but I had not had the opportunity to pick one up yet. When I learned that she was releasing a new book recently, I made it a point that this would be the book that I would pick up, to discover how well she handles herself as a writer of fiction, and I'm am not sorry that I did.
Nothing but Ghosts
is an engrossing and eloquently told story story of love and loss, of mystery and sorrow, and ultimately in learning to deal with all of these things. Sixteen year old Katie has been learning how to avoid life since loosing her mother cancer. She has lost contact with her best friends, in fear that she'll need to talk and answer their questions. She lives with her father, who is coping with the loss of his wife in his own way. In order to not think too much, Katie has taken a job working the gardens on the estate of Miss Martine, a recluse who has not been seen outside of her home in over 50 years. While working on the gardens, Katie also meets Danny, and over the course of the summer their friendship begins to bloom into something more.
Curious as to the disappearance of Miss Martine, and the mysterious silence that always follows her questions, Katie begins to do some research of her own, and begins to discover pieces of a much larger puzzle; one that doesn't entirely differ from her own sense of loss. As Katie begins to put all these pieces of the puzzle together, she begins to understand more about herself and her own sense of loss and how to deal with it.
The characters in
Nothing but Ghosts
are believable and honest. I particularly enjoyed Katie's interactions with her father; their relaxed feelings toward each other and thei situation, as they both try to make the best for each other. The romance between Katie and Danny is not over-played, therefore not detracting from the rest of the story.
I am pleased to discover that Beth Kephart can handle fiction just as well as she handles memoirs, though I didn't truly think I had much to worry about. I'm looking forward to reading more of her novels in the future.