#49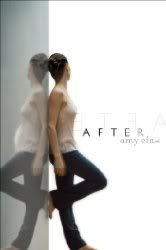 Title
:
After
Author
: Amy Efaw
Copyright
: 2009
Pages
: 353
Publisher
: Viking Books
Format
: ARC from publisher
Available
: 8-11-09
Rating
: 3.5/5 stars
Finished
: 7-31-09
I received this as an Early Reviewer, and quite frankly don't remember requesting it. When I read the line on the inside front page, "Who would leave her baby in the trash to die?", I began to worry that I had received a book that was not going to be to my liking at all. I guess it says something for Amy Efaw's writing that not only did she keep my attention through the entire book, she also held it enough that I finished the book in one sitting!
This is not any great work of literary genius. What it is, however, is the honest and straight forward story of Devon Davenport, a teenager who tries to throw her baby away after she gives birth to it on her bathroom floor and blanks out afterward. She has no recollection of the birth, nor did she have any idea that she was even pregnant. Due to the circumstances surrounding the event, she is arrested and sent to a juvenile detention facility, where she is held on charges of, among other things, attempted manslaughter. At first, she can't believe that she is there, since she's obviously not like the other girls there. In typical fashion, however, she begins to see that there is more to the other girls than her initial preconceptions, and she even begins to befriend the one girl who gives her problems from the beginning. This part of the book read like an after school special to me and was highly predictable. It wasn't until Devon started to come to terms with her own actions that the story started to have some substance. The story of her giving birth is told through flashbacks, from her own point of view as she begins to remember the events of that night, and these are handled very well; Efaw does not sugarcoat these aspects of the story. As Devon matures (over the course of a week) she begins to understand that she needs to accept responsibility and accept whatever punishment is given her.
It is a well-written book and does an admirable job of expressing Devon's emotions through the entire course of her journey, as she begins to understand what it is that she has done and what the consequences of these actions will be, even if she doesn't remember any of it at all. Not something that I would have picked up on my own, but I'm glad that the book made it's way to me.