#46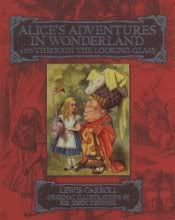 Title
:
Alice's Adventures in Wonderland and Through the Looking Glass
Author
: Lewis Carroll, illustrated by Sir John Tenniel
Copyright
: 1865/1871 (2008)
Pages
: 256
Format
: Hardcover
Rating
: 5/5 stars
Finished
: 7-25-09
With all the talk recently about Tim Burton's upcoming version of
Alice in Wonderland
for Disney, it got me in the mood to reread Lewis Carroll's original. I have read
Alice's Adventures in Wonderland
numerous times, but only until recently have I reread
Through the Looking Glass
, as I found a lovely collected edition at my local Barnes & Noble. This edition is particularly nice as it includes the original illustrations by Sir John Tenniel for both volumes.
Alice's Adventures in Wonderland
opens with Alice sitting outside with her sister, doing her lessons. Alice is bored with her lessons, and when she notices a white rabbit run by wearing a waistcoat and looking at watch, which she finds a curious thing, she decides to follow him, where she falls down the rabbit hole and her adventures properly begin.
Wonderland proves to be a nonsensical home to many wondrous characters: the Caterpillar, the Mad Hatter, March Hare and Doormouse and their Tea-Party, the Duchess and her baby and Cook, the Cheshire Cat, the Mock Turtle and the Queen of Hearts and her pack-of-cards court. I won't go into too much detail of the story, as I'm sure most are familiar with the tale, and if you're not, my explaining it won't make much sense until you read it. The book reads very much like a dream, with one scenario leading into another without much in the way of logic.
Through the Looking Glass
is the sequel to
Alice's Adventures in Wonderland
, taking place some six months later, even though there is no real reference to the first volume. The only two characters to really carry over from
Wonderland
are the Mad Hatter and the March Hare (here known as Hatta and Haigha) and even then Alice doesn't seem to recognize them. While
Wonderland
's court theme was based on a pack of playing cards, the court system in
Looking Glass
is based on chess, with a Red Queen and White Queen both playing important roles in this volume. Again, the story reads much like a dream, with no real rhyme or reason to the procession of the story.
I love the illustrations by Sir John Tenniel. They are perfectly suited to story, capturing the look and feel of the characters and Wonderland.
In doing some reading about
Alice's Adventures in Wonderland
and
Through the Looking Glass
, I made some interesting discoveries. I always assumed that both stories were based on Lewis Carroll's stories that he told to Alice Liddell and her sisters, and while this is partly true, as the chess theme from
Looking Glass
did in fact come from discussions that Carroll had with the Liddell children while he was teaching them chess, the idea of the looking glass came from a discussion that Carroll had with another Alice, his cousin, Alice Raikes.
There have been several films based on Alice and her adventures, but the version I think many people are most familiar with is the Walt Disney animated version,
Alice in Wonderland
. This version does stay true to many aspects of the story, but really is a combination of the two original stories; for instance, Tweedledee and Tweedledum are not introduced until
Looking Glass
in the original volumes, yet they appear quite early on in the Disney film. Of course, there have been several other film versions over the years, but when I talk about
Alice in Wonderland
with other people, this is always the version that is brought up. Tim Burton's upcoming live action/motion capture animated version will be apparently taking place when Alice has grown up, forgotten about Wonderland, and fallen back into the rabbit hole. I am really looking forward to that film!
Another film that is highly influenced by both
Wonderland
and
Looking Glass
is the recently released
Phoebe in Wonderland
. Ultimately, the movie uses the book to parallel madness in a little girl, and her journey through that "Wonderland" of madness until she comes out the other side, understanding what it is exactly that is happening to her. The movie is a stunning piece of work, and Elle Fanning and Felicity Huffman are both fantastic in their respective roles.
There have also been several other literary stories that are influenced by Alice's adventures as well, the most recent being Frank Beddor's
The Looking Glass Wars
trilogy, of which the final book,
ArchEnemy
, will be released later this year. It is an interesting twist on the Alice story, full of political and courtly intrigues, mystery, adventure, a civil war, magic and Imagination. I'd highly recommend it.
Alice's Adventures in Wonderland
remains one of my favorite books, and I like to wander back into Wonderland every so often, just to remind myself how much I enjoy it. Every time I read it, the Cheshire Cat always sums up the story best for me:



'But I don't want to go among mad people,' Alice remarked.





'Oh, you can't help that,' said the Cat: 'we're all mad here. I'm mad. You're mad.'





'How do you know I'm mad?' said Alice.





'You must be,' said the Cat, 'or you wouldn't have come here.'
This conversation always makes me smile. For me, it is the perfect description and explanation for the story, since in our dreams, aren't we all a little mad?
Unfortunately, the edition that I have doesn't appear to be available online through Barnes & Noble's website anymore, as this is the edition that I would recommend, but you may be able to still find one in your local store, in the bargain section where the classics are located. I believe that my local store still has a handful of copies, so they may still be available elsewhere. Otherwise, I'm sure any edition will do, but try to find one with the Tenniel illustrations.