#41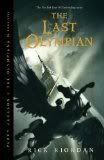 Title
:
The Last Olympian
Series
:
Percy Jackson and the Olympians, Book 5
Author
: Rick Riordan
Copyright
: 2009
Pages
: 400
Twitter
: @camphalfblood
Format
: Audiobook
Rating
: 4/5 stars
Finished
: 7-7-09
The final book in the first installment of the
Percy Jackson and the Olympians
series,
The Last Olympian
is where everything that has been building in the previous 4 books comes together at last. I really feel that this is my favorite book of the series. I feel like Riordan finally has a grasp of all of his characters and who they are. There was death and destruction, and the deaths really meant something this time. That was one thing that I feel he has handled poorly throughout most of the series thus far, that the deaths of some of the characters have been handled much too lightly. In fact, one of the major deaths in the second or third book was so matter of fact, that I really didn't think the character was actually dead.
Kronos finally brings his army to NYC and the Empire State Building, which is the current location of Olympus. The Gods have been drawn off in a battle with Typhon, so it is up to Percy and the other demigods to protect Olympus and the Gods' seats of power. Something else that I liked about this book is that most of the book contained the battle. So often, you have a huge buildup to a battle that is subsequently handled in one chapter. Not so here. I think the book is perfectly paced out (even if it is a little heavy on the nonstop action sometimes) and the characters all deal with their situations in very real terms. The story, obviously given the circumstances of the story, has become much darker in tone by this book, but there are still moments of levity and wit that Riordan has continually sprinkled throughout the series.
The book is quite predictable, as most of these hero-journey-type books are, but I still wasn't distracted from the story knowing I knew what was going to happen. These aren't books to think too hard about. They are to be read as is and enjoyed. It comes as no surprise that Percy and friends will have further adventures and I'm looking forward to them!