#48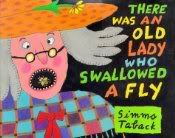 Title
:
There Was an Old Lady Who Swallowed a Fly
Author
: Simms Taback
Copyright
: 1997
Pages
: 32
Format
: Hardcover
Rating
: 3/5 stars
Finished
: 7-29-09
Apparently I am the only person on the planet who has not heard of
There Was an Old Lady Who Swallowed a Fly
. I discovered this quite by chance while at Walt Disney World earlier in the year with my friend C, and he mentioned something about it, and when I told him I had no idea what he was talking about, he started to recite it. Just about every other person on the bus promptly picked up the story as well, leaving me feeling quite baffled that I seemed to have missed such a rite of passage of growing up. A few months later, I was catching up on episodes of
Desperate Housewives
, and one of the characters mentions it on the show, and at that point I decide that it's a sign that I need to buy this book.
Basically, the premise is an old lady swallows a fly, and then continues to swallow other animals (a spider, a cat, a dog, etc) to deal with the animal that she just previously ate, until she finally eats a horse and dies. Honestly, there is nothing to this story, but the illustrations are fun, with diecuts in every other page, consecutively growing with each animal the woman eats. No great work of genius, but clever all the same.