#51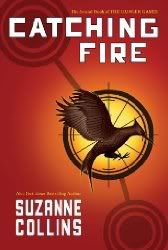 Title
:
Catching Fire
Series
:
The Hunger Games, Book 2
Author(s)
: Suzanne Collins
Copyright
: 2009
Pages
: 400
Format
: Hardcover
Rating
: 5/5 stars
Finished
: 9-10-09
Catching Fire, the Second Book of the Hunger Games
takes every element from the first book and ups it all several notches. Katniss finds herself at the mercy of President Snow, torn between Gale and Peeta and ultimately placed into a situation she never thought she'd find herself in.
I want to go on and on about this story, but I fear that talking about anything from the story will give key plot points away. Collins proved herself able to create a decent cliffhanger with
The Hunger Games
, but left me feeling dumbfounded at the end of
Catching Fire
. I even found myself turning the last page, hoping maybe there would magically be more to the story; knowing that Collins wouldn't leave me hanging like this! Alas, there was nothing. Just an empty void of pages that will have to wait to be filled until the third book is released, hopefully sooner than later. (Are you listening, Suzanne Collins?)
I can honestly say that Collins has upped her writing ability with
Catching Fire
as well. There were a few scenes in
The Hunger Games
that I felt were a little awkward, but she seems to have overcome these flaws (few and far between that they were) and has written a very slick and streamlined story. Her characters are naturally growing with their story, and the story is moving along at a quick but not rushed pace.
I'd love to go into more detail with the book, but this book is all about the shock and surprise. I can say that if you enjoyed
The Hunger Games
, you certainly won't be disappointed in
Catching Fire
. The third book cannot be released quick enough!