#61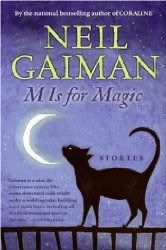 Title
:
M is for Magic
Author
: Neil Gaiman
Copyright
: 2007
Pages
: 272
ISBN
: 9780061186479
Publisher
:
Harper Collins
Author Website
:
www.neilgaiman.com
Twitter
: @neilhimself, @harpercollins
Format
: Paperback
Rating
: 4/5 stars
Finished
: 10-27-09
M is for Magic
is a delightfully creepy collection of short stories from Neil Gaiman. These stories are typical Neil Gaiman, and I find that is a phrase that I frequently use about his work, but that's the best way to put it: typical Neil Gaiman. He has a way of writing something that is so fantastical in such a matter-of-fact way that if you were to encounter one of these stories in the real world, you'd feel like it was an everyday occurance, yet special all the same.
The stories are written for a younger audience, so they aren't
quite
as creepy as they could be, but that isn't saying that these stories aren't creepy and a little dark in their own right. Some of the stories that stuck out the most for me:
The Case of the Four and Twenty Blackbirds
is a perfect example of Mother Goose meets crime pulp fiction;
Don't Ask Jack
is a little disturbing in it's vagueness and the secrets the Jack in the Box holds;
Sunbird
tells the tale of the Epicurian Club and their desire to expand their appetites to the extreme; and
The Witch's Headstone
was later incorporated into
The Graveyard Book
. The accompanying illustrations by Teddy Kristiansen are dark and creepy, so they fit in with the rest of the stories perfectly.
I enjoyed
M is for Magic
, but I'm thinking I should have maybe spaced the stories out a little more instead of reading them all at one time. Once finished, I was left wanting a little more, and I think that's because they are short stories, and I really wanted a little more substance from my latest Gaiman selection. Maybe it's time to move onto one of his novels for an "older" audience, or maybe revisit
The Graveyard Book
; don't get me wrong, I really enjoyed these stories. Maybe as a bit of advice to other readers, space them out. You'll be able to savour them that much more.