#60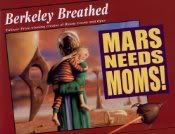 Title
:
Mars Needs Moms!
Author
: Berkeley Breathed
Copyright
: 2007
Pages
: 40
Author Website
:
www.berkeleybreathed.com
Format
: Hardcover
Rating
: 4/5 stars
Finished
: 10-19-09
Berkeley Breathed takes us on another adventure that is both wild and touching in his book,
Mars Needs Moms!
. Young Milo sees his mother as nothing more than a bossy, vegetable-pushing, chore-demanding tyrant, and he doesn't quite see what's so special about her. However, on the night that he witnesses her being kidnapped by martians, Milo learns what it is that makes
all
mothers so special.
The art in the book, in typical Berkeley style, is as quirky and colorful as ever. And his story, while being perfectly ridiculous, is filled with such heart and soul that anyone reading it can't help but love it. A perfect addition to Berkeley Breathed's ever-growing collection of kids books (that are perfect for adults as well!).