#62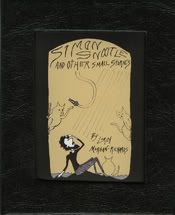 Title
:
Simon Snootle and OTHER small stories
Author
: Lorin Morgan-Richards
Copyright
: 2009
Pages
: 68
Publisher
: A Raven Above Press
Author Website
:
www.lorinrichards.com
Format
: Hardcover
Rating
: 5/5 stars
Finished
: 10-29-09
I received an email not too long ago from Lorin Morgan-Richards wondering if I would mind reviewing his book,
Simon Snootle and OTHER small stories
. I'm leery of reviewing home-published books; I've received some less than stellar books this way in the past, but I thought I'd at least do a little research and looked the book up on Amazon and LibraryThing. After discovering that it has received 5 stars across the board at both of these sites, I thought I'd go ahead and offer to review it.
Simon Snootle and OTHER small stories
is a collection of seven short stories that introduce us to a variety of characters who all live very bizarre lives. For instance, Simon Snootle himself lives in a cistern with some cats, where he fell as a child and his parents never bothered to pull him out, in fear of what else may come up with him; or Mr. Slowbug, who may or may not have discovered that he is forever more going to be a fashion accessory. The stories are quirky and unusual and the accompanying illustrations fit the mood of the stories perfectly. However, I honestly think that unless you are a fan of the likes of Edward Gorey or Tim Burton, you probably won't get much out of these stories; but the Gorey and Burton fans will love this book.
What makes the volume really shine, however, is the physical book itself; it is handmade! In the author's own words: "...I wanted to make sure I had a personal connection with how each book was created...writing, illustrating, drafting, printing, binding, and pressing each by hand." To say that Lorin Morgan-Richards made a small work of art out his book is an understatement. The book is printed on acid-free paper and bound in a faux-leather cover, and the finished product is a loverly little edition that has a slight quirkiness and imperfection to itself that goes right along with the characters that are held inside it's pages; honestly, I could easily see this sitting on any bookshelf in any store, it is so well presented.
Fans of Gorey and Burton and the like, don't hesitate to pick up a copy for yourself, as I don't think you will be disappointed. Morgan-Richards has created a host of fun characters and has given them a place to live in a beautiful, homemade book. The stories are quick and it won't take you much time at all to finish reading the book, but the overall package and the effort that Morgan-Richards put into his book from start to finish will certainly impress you as it did me.
For more information on Lorin Morgan-Richards or to order a copy of
Simon Snootle and OTHER small stories
for yourself, visit
www.lorinrichards.com
.