#58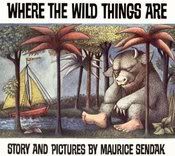 Title
:
Where the Wild Things Are
Author
: Maurice Sendak
Copyright
: 1963
Pages
: 48
Format
: Hardcover
Rating
: 4/5 stars
Finished
: 10-17-09
Not much more can be said for this children's classic tale that hasn't already been said before. I'm almost sure that everyone has read this at one point or another in their lives, and if you haven't, it's worth it. I know that it is the illustrations I remember most from my childhood, and as I read it again in preparation to see the new film version, they all came back to me in a rush of nostalgia! No child's library should be without this book.
Having said that, the film version of
Where the Wild Things Are
really is a different creature entirely. I'm not sure that young fans of the book today will understand the film; the more that I've thought about the movie over the last couple of days, the more I believe it is the generation of parents of today's children that this movie is made for. We will understand the film so much more than our children will. I've talked to a couple of friends who took their children to see it, and in most cases, the movie scared their children, yet the parents got it. I think it deals with many of the insecurities that we all had as children, being angry and not being understood, not having a clear idea how to deal with love, either giving or taking of it, and now that we are grown, we can look back at our childhoods and understand better what the story is about.
In my opinion, Spike Jonze took Sendak's story and pulled from it all the elements that made it perfect for us as children, and made it into a film that makes us nostalgic for that time of our lives, but as seen through the eyes of our adult selves as we relive those emotions through the cinematic eyes of Max. I still stand behind the idea that the book should belong in every children's library (and perhaps every adult's library, too) but the film should be watched by parents first, before taking their children to see it.