#66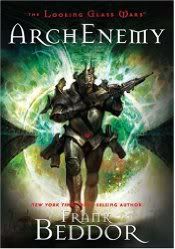 Title
:
ArchEnemy
Series
:
The Looking Glass Wars, Book 3
Author
: Frank Beddor
Copyright
: 2009
Pages
: 384
ISBN
: 9780803731561
Publisher
: Dial Books
Author Website
:
www.lookingglasswars.com
Format
: Hardcover
Rating
: 5/5 stars
Finished
: 11-8-09
The final chapter in Frank Beddor's
The Looking Glass Wars
,
ArchEnemy
really is a satisfying ending to the series. He ties up all the plot lines nicely and doesn't leave too many unanswered questions that may lead to more in the series, even though I wouldn't mind seeing more from Beddor and his take on the Wonderland characters.
King Arch makes his move to take over Wonderland using the best weapon he can come up with, the destruction of imagination as a whole. However, both Alyss and Redd may think differently about his plans. They form a tenuous partnership to help each other overthrow Arch, even though they both understand that either may betray the other when they find the right opportunity. And what role do the caterpillars play in all of this? Whose side are they on after all; their own, or do they actually have the best interest of the Heart Crystal in mind?
I can honestly say that I don't think that Beddor could have done a better job tying up his plot threads, while adding enough new layers to the story to keep this book interesting in it's own right as well as an ending to his story. If Beddor doesn't continue on with his Wonderland characters, I'd like to see what he can come up with next.