#70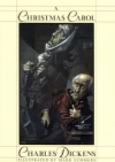 Title
:
A Christmas Carol
Author
: Charles Dickens
Copyright
: 1843 (2003)
Pages
: 129
Format
: Hardcover
Rating
: 5/5 stars
Finished
: 11-13-09
Dickens' perennial Christmas classic about Ebenezer Scrooge and his visits from the ghost of his former partner, Jacob Marley and the Ghosts of Christmas Past, Christmas Present, and Christmas Yet to Come and the Christmas lessons Scrooge learns from them. I try to read this every year around the holidays, and it never seems to get old.
There's really not much else to be said about the story that hasn't already been said before, so I'll just leave it at that. One thing that I would like to talk about, however, is the new Disney animated feature film version of
A Christmas Carol
. As I said previously, I'm very close to this story as I read it every year around the holidays so Disney and Robert Zemeckis had to do a fairly bang up job on the film to impress me, and I have to admit that on almost all accounts, they did. They took very few liberties with the story, sticking very close to the source material for much of the dialogue, and what was added did seem to be necessary. The slightly over-the-top chase sequence with the Ghost of Christmas Yet to Come was just that, over-the-top, but I understand the necessity to put something like that into the film. The Ghost of Christmas Yet to Come sequence is a little on the long side, dark and moody and I can understand why they were trying to lighten the mood for the kids in the audience, but really, it didn't feel like it was a part of the story to me.
The animation is breathtaking, being rendered in complete motion capture 3D CGI. The sweeping, aerial shots of 1840s London were something to behold and the characters themselves were quite believable. Overall, coming from someone who has a great attachment to the book, I can happily say that I was pleasantly pleased with the outcome of the movie.