#72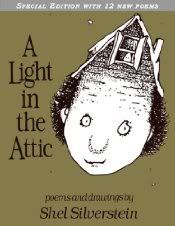 Title
:
A Light in the Attic Special Edition
Author
: Shel Silverstein
Copyright
: 2009
Pages
: 185
ISBN
: 9780061905858
Publisher
:
Harper Collins
Twitter
: @HarperCollins
Format
: Hardcover
Rating
: 2/5 stars
Finished
: 11-15-09
OK, I'm going to come clean. I didn't like
A Light in the Attic
. At all.
Is everyone over their collective gasp of disbelief? Good. Let me explain.
I don't think I remember ever reading Shel Silverstein as a kid. I mean, I must have, right? Every kid has. But beyond
The Giving Tree
, I have absolutely no recollection of ever having picked up another book by Silverstein. My sister, on the other hand, loved him as a kid. Somehow, I just skipped over that bit of growing up, I guess. My sister loved him as a kid, and still loves him today as an adult. In fact, she has all of her copies of his books from when she was a kid. So, when I heard they were coming out with this anniversary edition of
A Light in the Attic
that included several new poems, my first thought was that I needed to get a copy for her for her birthday, and it was being released close to that date. My second thought was that I should also buy a copy for myself. I felt I should have a copy in my library, since everyone just goes on and on about him. For future reference, I'm going to simply read what my sister has, that way I won't feel like I wasted my money.
Now, don't get me wrong. I own
The Giving Tree
and love it. I reread it periodically. It's a great little book. I cannot say the same of
A Light in the Attic
. I know the poems are geared towards kids, and that they are to be taken completely tongue in cheek, but that still hasn't stopped me from wishing I hadn't bought the book. I was actually shocked by the poems that dealt with kids dying (not that I'm so easily shocked by anything, really, but it really did come as a surprise to me) and thought some of them completely distasteful. Of course, to a kid, that sort of thing can be hysterical. I thought the illustrations were amusing, but not much more than that.
So, I think I missed my formative, Shel Silverstein-liking years. I guess to the right kid, these are great, but for my 34-year-old self who has never read them before and hadn't appreciated them as a kid... well, I won't be picking up another sampling any time soon.