#65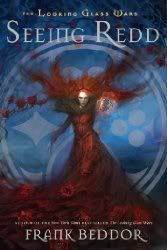 Title
:
Seeing Redd
Series
:
The Looking Glass Wars, Book 2
Author(s)
: Frank Beddor
Copyright
: 2007
Pages
: 371
ISBN
: 9780803731554
Publisher
: Dial Books
Author Website
:
www.lookingglasswars.com
Format
: Hardcover
Rating
: 5/5 stars
Finished
: 11-7-09
The second installment of
The Looking Glass Wars
,
Seeing Redd
opens a mear three months after Alyss Heart reclaimed her throne from her mad Aunt Redd, who along with The Cat flung themselves into the Heart Crystal instead of suffering the humiliation of loosing to her neice. But since the Heart Crystal is the spark of Imagination of the universe, Redd and The Cat find their way back to Earth through rather different means than the usual manner for Wonderlanders, the Pool of Tears.
Finding herself on Earth, Redd discovers a number of Wonderlanders who have taken refuge there, and decides to build her army on Earth, hidden from Alyss, and plans her revenge. Meanwhile back in Wonderland, King Arch, the monarch of Boarderland, is planning his own assault on Wondertropolis, using any means of subterfuge that he finds useful at the moment. Eventually, Redd makes her way back to Wonderland, and finding that she and Arch have similar goals, strike up a precarious alliance. However, Arch has plans of his own that even Redd doesn't know of, in the form of his new weapon WILMA.
Beddor continues to keep the pace fast and exciting in
Seeing Redd
, just like he did in
The Looking Glass Wars
. While we've left the similarities of
Alice's Adventures in Wonderland
and
Through the Looking Glass
behind in the last book, he continues to grow his cast of characters carefully, and each new character is just as imaginative as the last. I continue to be thrilled with this series. It's a fresh take on the
Alice
mythos and I'll be sad to see the series come to a close with the final volume,
ArchEnemy
.