#75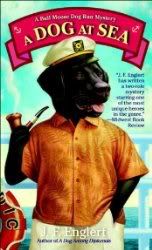 Title
:
A Dog at Sea
Related Series
:
Bull Moose Dog Run Mystery
Author
: J.F. Englert
Copyright
: 2009
Pages
: 288
ISBN
: 9780440245414
Publisher
:
Dell
Author Website
:
A Dog About Town
Format
: Paperback
Rating
: 5/5 stars
Finished
: 12-22-09
Challenge
: 75 Books 09
From Amazon:
A CANINE CRUISE. A STORM OF MURDER. A LABRADOR NAMED RANDOLPH: OVERWEIGHT, OVERLY INTELLIGENT—AND OVERBOARD…

For Randolph and his owner, Harry, a struggling artist, it was dog heaven: a pet lovers cruise filled with canine experts and gung-ho trainers—plus plenty of art lectures for Harry and midnight buffets for Randolph. The two have come on board to follow clues that they hope will lead to the whereabouts of the long-lost Imogen, Randolph's mistress and Harry's beloved girlfriend. But no one prepared Randolph for being put on a diet (the horror!), not to mention a new meaning for "poop deck"—or anything about murder. Especially when one victim gets killed twice.

Now, with a storm bearing down on the ship, Milton Tabasco, TV's celebrated dog "mutterer," threatening to drive him mad, and a mysterious stalker shadowing Harry's every move, Randolph is running out of time to catch a killer. After all, this Lab was born to eat—not to swim.…
In the latest installment of J.F. Englert's clever
Bull Moose Dog Run
mystery series,
A Dog at Sea
, we find our narrator Randolph, an acutely intelligent black Labrador with a penchant for good literature and an expanding waistline, and his human, Harry, on what seems to be a harmless dog-lover's pleasure cruise headed for Curaçao. In reality, the cruise is a useful cover story for their continued search for Imogen, Harry's love and Randolph's true owner. As typically happens with Randolph and Harry, they find themselves involved, through circumstances beyond their control, in a murder mystery and Randolph takes it upon himself to get to the bottom of it all.
After the events of
A Dog Among Diplomats
when Harry and Randolph discover possible clues to Imogen's whereabouts, they decide to follow the clues to Curaçao to see if they can find her. Using the cruise as a cover for their real purpose, Harry and Randolph also decide to use their time to rest and recuperate. However, this idea is short-lived after what appears to be a suicide on board the ship leads Randolph to think that there is something more going on. Using what limited lines of communication are available to his canine self and the help of Cha Cha the
New
Yorkie, Randolph helps lead Harry to the necessary clues to help solve the murder in a final whodunit reveal that would have made Dame Christie proud. It is a story of professional ambition (at any cost), unrequited love, corporate sponsored tropical storms and psychotropic doggie treats on the high seas.
I use the word "mystery" loosely here in describing the book. Englert's books are hard to categorize, but since there is a murder mystery in each book, this seems to be the easiest place to shoehorn them. The previous books are so much more than mere "murder mysteries" and
A Dog at Sea
is no exception. There is also the continuing mystery about Imogen, her whereabouts and the secrets surrounding her past. The books can also be labeled just as easily as comedies; Englert has a knack for creating memorable characters and his sense of humor is the perfect balance of dry wit and downright funny. I found myself laughing out loud through several parts of the book. However, what constantly surprises me in each book, and again
A Dog at Sea
is no exception, is Randolph's insight into the human condition. From his dog point of view looking out on the people around him, he is able to have a keener perspective on what makes people tick, and those human qualities are reflected back through him; his need for companionship, his feelings of loss and betrayal by Imogen, his loyalty to Harry. It's these very human emotions that Randolph feels that really make the books stand out for me; that in the midst of all the chaos of the murder and the humor sprinkled throughout the book, there are these shining moments of real emotion. I don't know; maybe I'm reading too much into the books, but I honestly feel that J.F. Englert has a really unique and refreshing way of telling Randolph's story and I'm hoping that we'll be able to read more of his adventures in the future.
A Dog at Sea
will be released on December 29, 2009 through Dell.
To read more of Randolph's own views on the world, stop by his
blog
. Also, I'm giving away a set of all three
Bull Moose Dog Run
books
here
. And finally, you can read my interview with J.F. Englert from last year
here
.