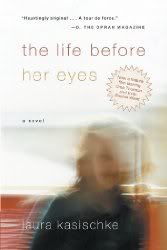 Title
:
The Life Before Her Eyes
Author
: Laura Kasischke
Copyright
: 2002
Pages
: 273
ISBN
: 9780156027120
Publisher
:
Harcourt
Format
: Paperback
Rating
: 5/5 stars
From Amazon:
This profound and daring novel explores all that is lost and gained between teenage girlhood and middle-aged motherhood.

Diana stands before the mirror with her best friend, Maureen. She is imagining her future life as a forty-year-old wife and mother - a future that will be paid for by a horrific decision she has just been forced to make. In prose infused with the dramatically feminine sensuality of spring, we experience seventeen-year-old Diana's uncertain steps into womanhood - her awkward, heated forays into sex; her sudden fits of pride that alternate with her deep insecurities; her fresh, fragile construction of an identity. And against the stunning precision of the sights and sounds of renewal, we experience the tasks of Diana's adulthood - protecting her beloved daughter and holding onto her successful husband, her exuberance muted by the relief of having made a home and a life.

Laura Kasischke has ingeniously created a consciousness that encompasses both the truth of a teenager's world and the profound transformation of that world at midlife.

Shocking, sensually charged, and stunningly original, The Life Before Her Eyes, like the best poetry, finds piercing beauty in the midst of horror and celebrates the glory of life in the face of death.
Laura Kasischke's
The Life Before Her Eyes
is quite a remarkable book. I picked it up well over a year ago on the recommendation of an independent bookstore owner, and read the prologue when I got home, knowing I was in the middle of a couple of other books at the time, but still wanting to get a taste of the book. After finishing the prologue, I felt that I had had a satisfying reading experience on just those 10 pages alone, and couldn't wait to get to reading the rest as soon as I could. That was October, 2008. The book has been sitting on my shelf, unread, ever since, I'm ashamed to say. This week, Laura Kasischke was doing a reading and signing at my local bookstore, so I was
determined
to read through this book this week, and I'm just sorry that it has taken me so long to finally get around to reading such an amazing story.
Diana and Maureen are best friends in high school. They do everything together, go everywhere together, are rarely separated. Their bright futures are still stretched out before them with all the potential that is available, until they are forced to make a decision that will alter that future forever: Which one of them is to die?
We skip ahead to forty-something Diana and her life now, her husband, her daughter, her happy existence. However, something seems to be wrong. It almost seems like her life is unraveling at the seams all around her. She is seeing things that aren't necessarily there or shouldn't be there, she is having moods swings, she is having unexplainable flashbacks to her younger days. What does all of this mean for Diana and what does it have to do with her younger self.
Kasischke's writing is so ethereal and atmospheric, it reads like a dream. We alternate between younger Diana and older Diana with a revolving narrative that has slight reflections from younger Diana onto older Diana's story. When the narrative is following Diana and Maureen, there is no real distinction between which girl is which, which seems fitting since they spend so much time together and are so connected, that there really is almost no distinction between them. As I progressed through the story and more became clear to me about what was happening for sure, I couldn't put the book down. I had a feeling I understood from the beginning what was happening but wasn't sure I
quite
had it, but when everything started to fall into place, the true power of the entire book was becoming clear to me. I know this is all very enigmatic, but I don't want to give anything away; the power of the story is in its unraveling. A truly powerful and amazing story that is beautifully written and not quite like anything that I have read before.