#14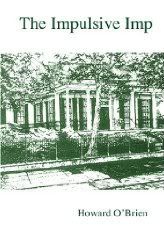 Title
:
The Impulsive Imp
Author
: Howard O'Brien
Copyright
: 2007
Pages
: 144
ISBN
: 9781419661167
Publisher
:
BookSurge
Format
: Paperback
Rating
: 2.5/5 stars
Finished
: 1-31-10
Challenge
: 100 Books 10, TIOLI
From Amazon:
A lot happens to the Impulsive Imp on his way from the living room to the kitchen; he steals from the cookie jar and jousts with the cat. However, Roddy and Alice teach the Imp that there are missions in life more important than mischief.
The Impulsive Imp
was a story told to Anne Rice and Alice Borchardt by their father, Howard O'Brien, and written down and eventually published. It's about a small, impulsive imp born in a hole in a chimney from a sliver of an oak tree that may or may not have been cursed. Upon his birth, as he tries to come down the chimney to explore his new home, he burns his tail in the fire, and thus he begins his life as an angry imp. In his quest to find food, he angers the family book, Septuagesima, who becomes his mortal enemy. Unfortunately, Septuagesima blames the family children for the missing food, and they are punished, unjustly. Eventually, the imp becomes less impulsive and realizes that there may be more to life than his own selfish, impulsive urges.
Quite frankly, I'm sure the story was told to teach the O'Brien children lessons through the actions of the imp, but I walked away from this story with a general feeling of "meh." I felt no emotional attachment to the imp, nor did I feel sorry for him while it seemed the world was working against him. While I'm sure that this is part of the point, that when the world seems to be working against you, it's probably all in your mind, it just didn't seem to work so well for me.
I always hate writing something that isn't positive about a book, because lord knows that I wouldn't want somebody to write anything negative about anything that I would write, but the fact remains that I just didn't find the story all that intriguing or charming. And given that the story was told for specific children in mind, I feel even worse about not being that enchanted with the story, but this is just the way it is.