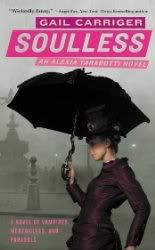 Title
:
Soulless
Related Series
:
The Parasol Protectorate, Book 1
Author
: Gail Carriger
Copyright
: 2010
Pages
: 384
ISBN
: 9780316056632
Publisher
:
Orbit Books
Author Website
:
www.gailcarriger.com
Twitter
:
@gailcarriger
,
@orbitbooks
Format
: Paperback
Rating
: 5/5 stars
Finished
: 1-10-10
Challenge
: 100 Books 10, TIOLI, 1010 Challenge (Urban Fantasy Category)
From Amazon:
Alexia Tarabotti is laboring under a great many social tribulations. First, she has no soul. Second, she's a spinster whose father is both Italian and dead. Third, she was rudely attacked by a vampire, breaking all standards of social etiquette.

Where to go from there? From bad to worse apparently, for Alexia accidentally kills the vampire -- and then the appalling Lord Maccon (loud, messy, gorgeous, and werewolf) is sent by Queen Victoria to investigate.

With unexpected vampires appearing and expected vampires disappearing, everyone seems to believe Alexia responsible. Can she figure out what is actually happening to London's high society? Will her soulless ability to negate supernatural powers prove useful or just plain embarrassing? Finally, who is the real enemy, and do they have treacle tart?

SOULLESS is a comedy of manners set in Victorian London: full of werewolves, vampires, dirigibles, and tea-drinking.
To not put too fine a point on it, I absolutely adored
Soulless
! It is a smart, funny, sometimes sexy little morsel of steampunk romance brain candy. Now, first off, when you see the word "romance" in the description, please don't jump to the conclusion that I would have: that the book is chockablock with hot, steamy naughtiness. Now, in all honesty, it does have it's share of hot, steamy naughtiness (it is part romance when all is said and done, although it really has only one outright sex scene in the entire book), but it doesn't read like every action our heroine is taking is trying to lead her to her next tryst; this is Victorian England, after all, and there are certain rules and regulations one must follow before such scandalous behavior can ensue! What we have here, really, is a smart and sexy heroine who can not only hold her own against vampires and werewolves (she kills a vampire with her parasol, after all), but who can still manage to uphold the highest of societies standards and etiquette, often at the same time.
Soulless
is a clever book, and the notion of vampires, werewolves and ghosts being accepted parts of Victorian society is a unique approach to the urban fantasy. How our preternatural heroine, Alexia Tarabotti, falls into all this as someone without a soul who can negate the powers of the supernatural makes her all the more an extraordinary character. In fact, all of the characters are well polished gems and each stands out in their own distinct way.
Carriger's writing is laugh-out-loud funny in some instances and solid throughout. I found it a refreshing read and a highly promising good start for this debut author. I'm anxiously awaiting the second in the series,
Changeless
.