#7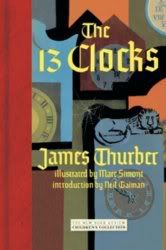 Title
:
The 13 Clocks
Authors
: James Thurber, illustrated by Marc Simont
Copyright
: 1950
Pages
: 124
ISBN
: 9781590172759
Publisher
:
The New York Review Children's Collection
Format
: Hardcover
Rating
: 3/5 stars
Finished
: 1-11-10
Challenge
: 100 Books 10, 1001 Books, Baker's Dozen Challenge, 1010 Challenge
From Amazon:
Once upon a time, in a gloomy castle on a lonely hill, where there were thirteen clocks that wouldn't go, there lived a cold, aggressive Duke, and his niece, the Princess Saralinda. She was warm in every wind and weather, but he was always cold. His hands were as cold as his smile, and almost as cold as his heart. He wore gloves when he was asleep, and he wore gloves when he was awake, which made it difficult for him to pick up pins or coins or the kernels of nuts, or to tear the wings from nightingales.

So begins James Thurber's sublimely revamped fairy tale, The 13 Clocks, in which a wicked Duke who imagines he has killed time, and the Duke's beautiful niece, for whom time seems to have run out, both meet their match, courtesy of an enterprising and very handsome prince in disguise. Readers young and old will take pleasure in this tale of love forestalled but ultimately fulfilled, admiring its upstanding hero ("He yearned to find in a far land the princess of his dreams, singing as he went, and possibly slaying a dragon here and there") and unapologetic villain ("We all have flaws," the Duke said. "Mine is being wicked"), while wondering at the enigmatic Golux, the mysterious stranger whose unpredictable interventions speed the story to its necessarily happy end.

OK, I'm admitting to a re-read here early on in the year, but it fits a slot that I need to fill on two separate challenges, and I was hoping that a revisiting of the story would help me understand it a little better, but that didn't really happen. I'm going to re-post my review from before, as I still rather stand behind that.
I'm not quite sure what to make of James Thurber's
The 13 Clocks
. To be honest, the biggest reason that it caught my eye was the introduction by Neil Gaiman. Then I discovered it was on the 1001 Books list, so I thought that it would be worth picking up. And it was; but I just don't know what to think of it. In his introduction, Gaiman says that
The 13 Clocks
is one of the best books ever written, or something like that. I have to agree that it is a fun book, but calling it one of the best books ever written is stretching it a bit far.
The 13 Clocks
is a hard book to label; is it YA? A child's fairy tale? Something written for adults? I can honestly say yes to all these questions. It has just about every aspect of the typical fairy tale present: there is a damsel in distress, an evil duke, a prince who comes to the rescue, impossible tasks, magical creatures, curses and a happily ever after. The Princess Saralinda is something of a captive to her wicked 'uncle,' the Duke, who is actually not her uncle, but her kidnapper, and who plans to marry her on her 21st birthday. She has had many suitors over the years, but the Duke gives each an impossible task to complete for her hand, or he simply kills them for practically no reason. Along comes the prince, Zorn of Zorna, disguised as a traveling minstrel, who goes on an impossible quest set forth by the Duke. Accompanying Zorn is the Golux, who seems to be something of a wizard, but maybe not, and together they accomplish the task, but just barely. I'm giving nothing away here, as we all know how these fairy tales end, and this particular tale follows in the footsteps of every one before it.
Marc Simont's illustration are very simplistic, but they match the tone and feel of the story perfectly. I found them a fresh accompaniment to the story.
Don't take me the wrong way, I enjoyed reading
The 13 Clocks
. Thurber created a fun little story, but I'm just not 100% convinced that it deserves the amounts of praise that has been heaped on it.
So there it is. A re-read just to fill the requisite slot in two challenges for the year so that I don't fall behind 2 weeks into the New Year. Some may call me on it as a cheater, and that's OK. I'm also hoping that someone else who may be reading my review for the first time might be able to shed some light on the subject for me as to why this book gets the praise that it does. I'm open to changing my mind about a book.