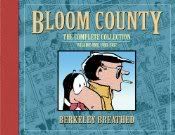 Title
:
Bloom County: The Complete Library, Vol. 1: 1980-1982
Author
: Berkeley Breathed
Copyright
: 2009
Pages
: 284
ISBN
: 9781600105319
Publisher
:
The Library of American Comics, IDW Publishing
Website
:
www.berkeleybreathed.com
Twitter
: @IDWPublishing
Format
: Hardcover
Rating
: 5/5 stars
From Amazon:
Berkley Breathed's Bloom County was one of the most popular and critically acclaimed newspaper strips of all time. Bloom County ran from December 8th, 1980 to August 6th, 1989 and was published in an astounding 1200 newspapers on a daily basis. The huge popularity of Bloom County spawned a merchandising bonanza, as well as two spin-off strips, Outland and Opus. The Bloom County Library Volume 1 highlights the first time the entire run of the immensely popular Bloom County strip has been collected in beautifully designed hard cover books with exceptional reproduction.

I faithfully read Berkeley Breathed's strip
Bloom County
, and the follow-up strips
Outland
and
Opus
, every day while it was running. I loved these characters and still do to this day. Breathed's commentary on the events of the day was always a little on the snarky side, but it was always done intelligently. It is clear in these early strips that Breathed is trying to find his voice. There are some characters that you can tell just don't mesh as well with the evolving feel of the strip, and eventually these characters just melt out of existence. It is also fun to see how the characters that did manage to make the cut evolved from their early beginnings. Towards the end of this first volume, which ends in mid 1982, Breathed has clearly found the voice of the strip and his characters and is beginning to hone the comic wit and satire that will eventually make this strip great.
When I heard that they were finally publishing a complete collection of the strips, I was ecstatic. The volume itself is very nicely presented, and the strips look great reprinted. All in all, I believe that there will be five volumes produced altogether, and I'm hoping that these will include the subsequent strips
Outland
and
Opus
, as some of these strips have never been reprinted before.